Gaspar Sinai's Home Page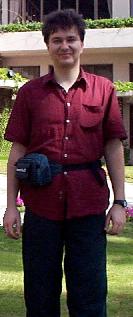 Here you can find a link to my latest public domain software including my text editor Yudit .
The computer link contains a few computer related links.
You can take a look at my oldest page that I created when there was only UNIX Mosaic web browser around. The layout of the page is unchanged but the links have been updated.
A document for those who would like to setup Japanese environment on a Linux box from scratch can be downloaded from here.
You can email me; I usually read my mail before I delete it. Please enable javascript to see my email address here:

Gaspar Sinai -
Last updated: 2006-05-17.